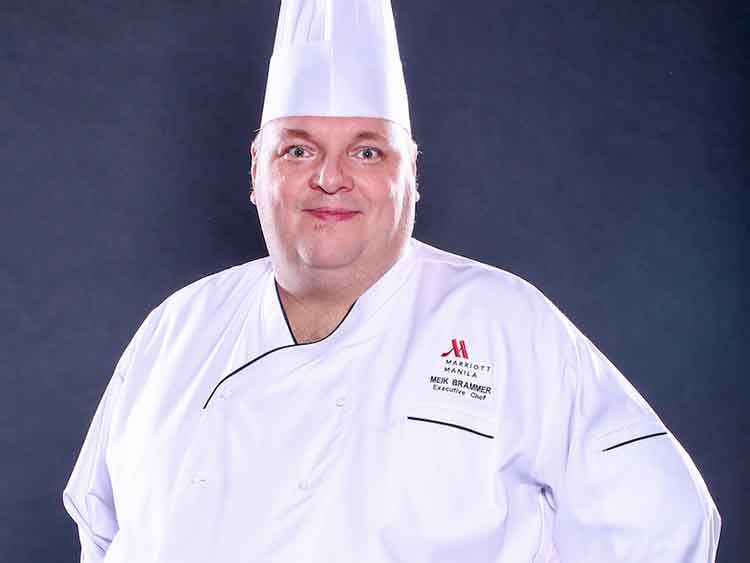 Executive Chef Meik Bramer
Executive Chef Meik Brammer was appointed Executive Chef of Marriott Hotel Manila in 2010 and has been leading the kitchen operations of three buildings—the Main Hotel, West Wing, and the Marriott Grand Ballroom that can accommodate up to 4,000 persons. With more than 27 years of culinary leadership and experience, Meik started his apprenticeship in1993 at Hotel Llemmenautal in Bad Bevensen, Germany before earning his position in Manila.
Over the years, Meik has risen through the ranks and has worked with diverse teams from the various countries he has been to. From implementing hygiene programs to menu development for all restaurant outlets, Meik has been a dynamic team player and has shown strong leadership earning him the Award of Culinary Excellence Global Winner and Continent Chef of the Year in 2014 by Marriott International.
Apart from his love for food, Meik has a strong commitment for sustainability and has initiated various programs to promote organic farm to table concept, sustainable seafood, plastic waste management, and food donation. He spearheaded the annual Philippine Sustainability Month—a nationwide campaign participated by numerous organizations along with other top hotels, suppliers, government, and educational institutions in finding solutions towards responsible sourcing. Meik also led the plastic bottle to school chair project of Marriott Hotel Manila in partnership with Environtech Waste Recycling, Inc. where 12,000 plastic bottles from hotel amenities and the associates were turned to school chairs and donated to the Philippine School of the Deaf in Pasay City.